The Hunger Survey at Allan Hancock College was developed and conducted by Christine Bisson to assess student need and target areas for intervention. Students from the Culinary Arts, Nutrition, and Culinology programs use fresh produce from Foodbank and the Allan Hancock College community garden to develop recipes and create samples of delicious, simply prepared, budget-friendly foods. Recipes and samples are shared with participants at the Food Share events, creating a refreshingly upbeat, community-inspired environment. The response from students, faculty, staff, and administrators has been overwhelmingly positive. Students in the Nutrition & Wellness Club and in nutrition classes are working to collect and compile more recipes, and to create 1-minute cooking demonstration videos to share through social media. The students conducted a successful crowdfunding campaign in 2016 to support a pilot project for these efforts.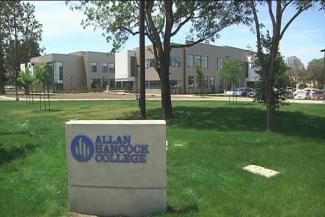 Food Resources on Main Campus
Basic Needs Center
---
 The Basic Needs Center at Allan Hancock College is a centralized hub to support your academic success by connecting students with on-campus and community resources related to food, housing, health, technology access, childcare, and other resources. If you are a student at Allan Hancock College and are experiencing a basic need insecurity, complete their Basic Needs Intake Form so we can reach out to the student.
Make an appointment with Allan Hancock College Basic Needs Center:
Santa Maria Campus
Location: G-101 (inside Student Center)
Phone: (805) 922-6966 ext. 3927
Email: basicneeds@hancockcollege.edu

Mon. - Thurs: 8 a.m.- 6 p.m.
Friday: 8 a.m.- 4 p.m.
*Closed for Lunch from 12- 1 pm
Food Share
---
Every Thursday of the month, students are welcomed to pick up non-perishable food and produce at the Mechanics Bank student center patio located on the South side of building G.
Services are provided at both AHC sites:
Santa Maria, starting at 11:30 a.m.
LVC, starting at 2:30 p.m. 
Financial Aid Department
There are a multitude of ways to finance your education, and the financial aid department will help you  make higher education more affordable. In addition to applying for financial aid in the form of grants and scholarships, Allan Hancock also offers services such as a book lending program, and emergency grants that does not have to be paid back (funded on a case basis) to ensure your success.