The 14 Isla Vista and campus gardens and farms address food insecurity by re-purposing underutilized spaces on campus as areas for food production.
These programs empowers the community, especially students, to be leaders of our food system.
The gardening experience is heavily tied to environmental education as it builds a grower's relationship with their own intake of increased fruit and vegetables for a healthier lifestyle and the desire cultivate other initiatives related to being environmental stewards.
The gardens not only serve as a productive outdoor activity, but also as an entry way to socialize and develop connections with the land and output. 
Image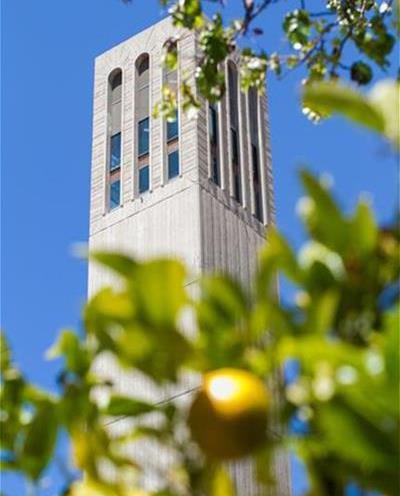 Edible Campus Program
---
The Edible Campus program is the overarching campus program which is made up of many partnerships including UCSB Sustainability, A.S. Department of Public Worms, A.S. Food Bank, and the Johnson Ohana Foundation.started with the Urban Orchard, in which 6 citrus trees were planted in Storke Plaza in 2015. At full growth, the trees will each produce around 400-600 pounds of produce per year. Recent projects introduced include the hydroponic vertical gardens and student farms that allow students and community members alike to learn and practice agricultural techniques that address social, economic, and environmental aspects of sustainability, while at the same time, supplying the Associated Students Food Bank with much-needed additional healthy produce. 
Four Directions & Three Sisters Garden
---
UCSB is on Chumash lands, and the American Indian & Indigenous Gardens Alliance have chosen to honor the space through the creation of gardens as an opportunity for inter-tribal and inter-community engagement and sharing of traditional foods and medicinal important to indigenous cultures and ancestries. Garden spaces are adjacent to the Student Resource Building and at West Campus Family Student Housing.
Sueno Orchard
---
Sueno Orchard currently has 33 different kinds of trees, mostly fruit bearing and cultivated using organic methods which makes the fruit produced safe for consumption! Each tree is also labeled with an ID tag for people exploring the orchard. Make sure to check out the Orchard and grab some free and fresh fruits! 
Associated Students Department of Public
Worms Student Farm
---
Next to the Orfalea Family Children's Center at West Campus
The Department of Public Worms is proud to manage the Edible Campus Program Student Farm, where we grow and harvest fresh produce to donate to the UCSB Associated Students' Food Bank. Farm tours are free for any UCSB student interested in see where we grow food. Sign up today! Farm Tour Farm Tour Sign Ups
St. Michael's Community Garden
(Community & Plot Based)
---
Sixteen raised bed plots on the property are available on a first come first served basis for those in the community who wish to grow organic items. Email saintmikesucsb@gmail.com to inquire about garden plot availability. Cost of a plot includes a $15 non refundable one time deposit plus $5/month to help offset water costs.
The Isla Vista Community Center garden
---
970 Embarcadero del Mar SUITE 101, Isla Vista, CA 93117
The IV Community Center garden surrounds the community center at the base of the Embarcadero Loop in Isla Vista. We help to bring beautiful flowers to the community and food to our volunteers. This garden is a partnership between the Edible Campus Program and the Isla Vista Community Services District.
University United Methodist (UUme) Church Garden
---
892 Camino Del Sur, Goleta, CA 93117
The UUMe garden is an open and inclusive garden for all community members. We provide bilingual workshops as well. We are looking for people to volunteer and share in our harvest. This garden is a partnership between the Edible Campus Program, the UUMe congregation, and the Isla Vista Community Services District.
Methodist Community Garden /Jardin
Greenhouse and Garden Project
---
UCSB students, faculty, and staff are welcome to maintain their own assigned plot of land to garden organically for the length of one year with a renewable membership fee of $40 and refundable $10 deposit. GHGP invites gardeners of all stages to interact in a productive and social environment.
IV Park Gardens
---
At Estero Park and Sueno Park, the Isla Vista Recreation and Parks District has organic garden plots where community members can nurture their vegetables, herbs and flowers for a nominal quarterly fee. Please contact the community gardens coordinator Angela Kamm at angelak@ivparks.org 805-968-2017 ext. 29 for a demonstration tour or to put your name on the waiting list for a garden plot.
Family Student Housing Gardens
---
Residents can grow their own fruits and vegetables in one of the two Family Student Housing (FSH) Community Gardens. West Campus FSH offers over 30 plots where Storke FSH offers over 60. Each garden has community tools and soil enhancements such as compost and manure on site. With grant funding, FSH has been able to build over 100 raised beds for their gardeners as well as implement community spaces and new irrigation strategies. Over 180 individuals, both students and children, have the resources of growing fresh, organic crops, close to home. FSH Community Garden Leadership is consistently pressing for progress and the expansion of resources in the gardens. Please visit their blog here for information on regularly scheduled events and to see how their gardens are growing!
Image