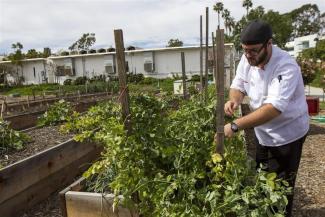 The Student Equity Committee tackles food insecurity, and Mrs. Johnson, SBCC's Dual Enrollment director, helped to establish the first college collaboration with the Santa Barbara County Food Bank. Mr. Green, a professor and Director of the Center of Sustainability at SBCC, also facilitated SBCC's food producing campus garden to provide food services and implemented a food scrap collection for composting. In Fall of 2017, SBCC held its first bi-monthly Food Share Distribution Day, serving over 480 students in one hour. The college also served 1,200 students in the first operating quarter of the student food pantry. SBCC will engage in social media outreach and marketing and more broadly share existing workshops to help us take our work on developing innovative solutions to the challenge of creating a sustainable and equitable food systems to the next level.
Food Resources on SBCC Campus
SBCC Basic Needs Center
The Basic Needs Center is located in ECC-14 (across from The Well) and houses the Food Pantry, Love's Clothing Closet, and the CalFresh Assistance Program. 

Email: basicneeds@sbcc.edu
Phone: (805) 730-3067
For Fall 2023, the BNC hours of operation are:
Monday - 12 p.m - 4:30 p.m.
Tuesday - 9 a.m. - 4:30 p.m.
Wednesday -9 a.m. - 4:30 p.m.
Thursday - 9 a.m. - 4:30 p.m.
Friday - Remote Services
*Closed during intercession and campus holidays.
SBCC CalFresh  
The SBCC Food Pantry is coordinated by the Office of DEI. For more information, or to schedule a CalFresh appointment, please visit here.
If eligible for CalFresh, one may receive government assistance in accessing nutritious foods. Once you are approved for CalFresh, you will be issued a card which can be used like a regular bank card at the grocery store. 
 
Dining and Food Services
SBCC's Campus Center Cafeteria has expertly created meals prepared in their culinary training kitchen.
East Campus Cafeteria OPEN hours:
Mon - Thurs: 8 am - 3 pm
Friday: 8 am - 1:30 pm
West Cafeteria closed until further notice.
Campus Wide Options for Food and Beverages
Vending Machines located on the Administration Building, 2nd floor. 
Water bottle filling stations available in most buildings. For water, please bring your own container.
Coffee cart available at the Luria Library, hours are posted at their cart. 
 
Financial Resources on SBCC Campus
Financial Aid Department
---
Located in the Student Services Building SS210, the Financial Aid Department has guidance on applying for types of financial aid from scholarships to loans and employment opportunities.
Contact
(805) 730-5157
FAX #: (805) 564-1893 
Faxes will be checked in as received but not processed within 24 hrs
Email: finaid@sbcc.edu
Virtual Front Desk Hours
Mon and Thurs: 8:00 am - 4:00 pm
Tues and Weds: 8:00 am - 6:00 pm
Friday: 8:00 am - 1:00 pm  
In-Person Desk Services
Tues: 2:00 pm - 6:00 pm
Weds: 9:00 am to 1:00 pm
Thurs: 12:00 pm to 4:00 pm
Dual Enrollment on SBCC Campus
Dual Enrollment
---
Earn high school and college credit TUITION FREE simultaneously! This program is open to anyone- public, private, or homeschooled students, who have completed 8th grade to enrich their educational experience.  Classes may be offered on high school campuses or at the SBCC campus.

If you are a student or parent with questions about applying to the college and registering for classes, please contact.
Christina Lomeli
Dual Enrollment Advisor
Schott Campus
310 W Padre St.
Email: lomelic@sbcc.edu
Dual Enrollment Phone
(805) 898-8170 ext 8170